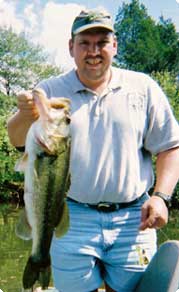 I have been in love with fishing ever since I've been able to walk and hold a cane pole. During that time, "pan fish" was the name of the game.  In the early to mid 70's, I got my first taste of bass fishing, during that time, I was using spincast reels and a spinning reel, and any rod that I could afford.
About 1981, I was really getting into bass fishing, and that's when I purchased my first baitcasting reel.  I had seen the baitcast reel while growing up, but had never used one to fish with.  Once I learned how to cast and make adjustments, I guess you could say I was "hooked".  As time went on, I learned how to break-down a good number of the popular reels (which were my own), and do my own repairs.  Doing this was "trial & error", which required a lot of patience.
As time went on, I began to develop skills and confidence, to the point where several of my fishing buddies were beginning to bring their reels to me, rather than sending them off in the mail.  I have since developed the trust and a good working relationship with some of the major reel companies, in the business.
I have discovered that learning about repairing reels is an on-going process because the technology is becoming much more advanced.  Due to the technology, buying a reel is often an investment decision for a lot of people.  As a result, many people are willing to repair their reels rather than purchasing a new one.  I always try my best to make my customers happy by providing the best quality of work.  I am always honest with my customers and try to be as straight-forward as possible.  For the ones that know me, and read this, the one thing that I always say is "If I fix a reel, I want it fixed to where I would feel comfortable using it on the water in any situation".  I feel like with me having that train of thought, and the love for what I do is what keeps my customers coming back.
Good Fishin',
Tommy
Carolina Reels